Tofu, Brown Rice and Enoki Salad with Basketcase Miso Dressing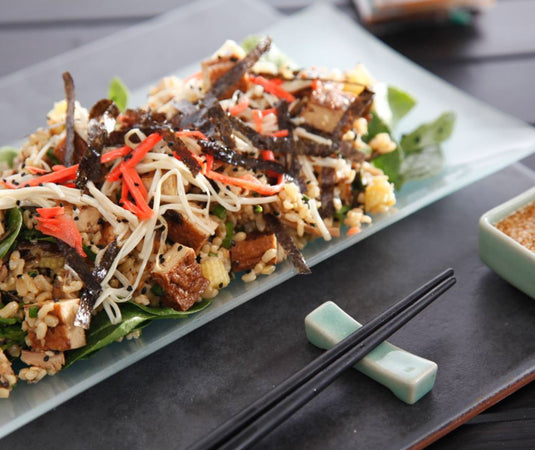 We love our meat free days, and this salad ticks all the boxes.
Ingredients
1 cup of cooked brown basmati rice
2 tbs wild rice – cooked with brown rice
I pack marinated tofu or tempeh cubes
150g small brown mushrooms – diced
150g fresh shitake mushrooms – sliced
30g dried shitake mushroom slices – soaked in hot water, drained and roughly chopped
2 cloves garlic - crushed
I pack enoki mushrooms – roots trimmed
4 spring onions – thinly sliced
1 pack of fresh baby corns - blanched and sliced in 1.5cm pieces
half bunch chives – garlic chives if possible – finely snipped
large handful of baby spinach - roughly chopped
1 sheet nori – toasted and cut into thin strips
2 tbs black sesame seeds
2 tbs pickled ginger – julienned
Basketcase Miso Dressing
Directions
Sauté the brown and shitake mushrooms with the garlic until just cooked - cool
.Lightly sauté the enoki mushrooms separately – they just need a minute or two.
Combine the rice, tofu, cooked mushrooms, spring onions, chives, spinach and baby corn and enough dressing to coat lightly – do not overdress!
Spoon the rice , tofu and vegetables onto a shallow serving bowl or platter, and scatter with the enoki mushrooms – drizzle over some more dressing if needed.